Here are some practical ways to reduce your food waste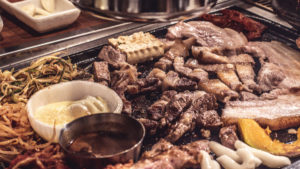 Due to the easing of lockdown restrictions across the world, food waste has seen a sharp increase. Household food waste in the UK rebounded in June compared to the months when the country was on a stricter lockdown, according to the Guardian.
In Cambodia, food waste has been a problem for a while, where it accounted for over 60% of total solid waste in Phnom Penh in 2019.  
What constitutes 'food waste'  varies from country to country. The UN defines food waste as the disposal of "food which is or was at some point fit for human consumption, or which has spoiled or expired, mainly caused by economic behavior, poor stock management or neglect." 
A simpler definition that many countries adopt is food that gets thrown away at supermarkets, restaurants or by consumers. Simply put, food waste occurs when people let food expire or throw it out because they fail to plan their meals or store food properly. 
According to the Food and Agriculture Organization (FAO), each year around 1.3 billion tonnes of food is wasted. That is the equivalent of one-third of all the food produced around the world, each year.

In the early stages of the Covid-19 pandemic, motivated out of the fear of going to the shops or running out of food, panic buying was rife and people chose to buy in bulk and hoard food, rather than buy what they needed. While this was far from ideal, a UK government advisory group found that people were also more mindful about food during the lockdown, compared to normal. 
But food wastage existed before the pandemic and will exist long after. Food waste and landfill sites are one of the producers of methane, responsible for global warming and climate change. It is also an unethical practice when you remember that a lot of people cannot afford enough for them and their families.
Recently, all-you-can-eat restaurants have seen a spike in popularity in Cambodia. Some restaurants have attempted to reduce  waste by charging customers extra  when they cannot finish the food on their plate. Out of fear of having to pay, it forces people to be more careful about food, taking only what they can finish. 
Some practical ways to help reduce your food waste: 
Do not buy too much food, make sure to only buy what you need. 

Do not over-serve yourself food – keep in mind that you can always ask for more. Better to start with less and have more, than start bigger and waste more.

Save uneaten food in your fridge and make sure to finish them before they expire. 

Store food in an appropriate place. Some food is best kept in the fridge and while others are at room temperature. 

Keep your fridge clean and neat, because it will be easier for you to spot what should be eaten first. 

Share food with other people. Many people are living in hunger, therefore it is never a bad idea to donate your food before it turns uneditable.
This post is also available in:

KH