Khmer Green Charcoal provides a sustainable alternative to wood charcoal for cooking.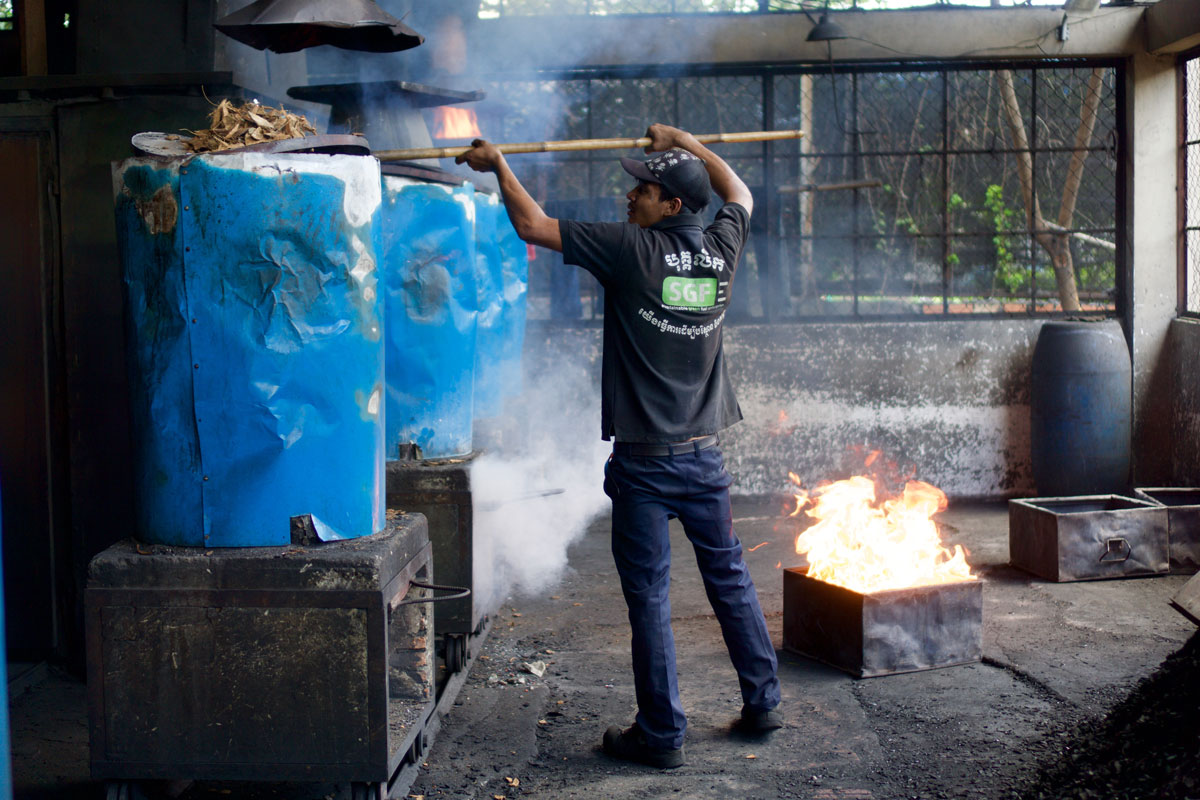 In Cambodia, charcoal holds great significance in Khmer households, especially those in the provinces where gas stoves are still a luxury.
According to the World Health Organization (WHO), around 3 billion people still cook using solid fuels, including traditional wood charcoal. In Phnom Penh alone, 100,000 tons of charcoal are consumed every year, which is equivalent to 600,000 tons of wood. In an attempt to meet this demand, charcoal production is one of the main causes of deforestation in Cambodia. Based on a NASA Earth Observatory report, in 2015 Cambodia had one of the highest rates of deforestation in the world.
Charcoal is a primary source of energy in households and, thanks to the growing number of BBQ eateries in Phnom Penh, at the restaurant level as well. With this in mind, Khmer Green Charcoal, a 2012-registered company founded by Carlo Figà Talamanca, is on a mission to provide a more sustainable alternative to wood charcoal for cooking.

Originally launched in 2010 as a joint project between two organizations, KGC has grown to be an award-winning social enterprise, as well as Cambodia's biggest provider of environmentally friendly char-briquettes.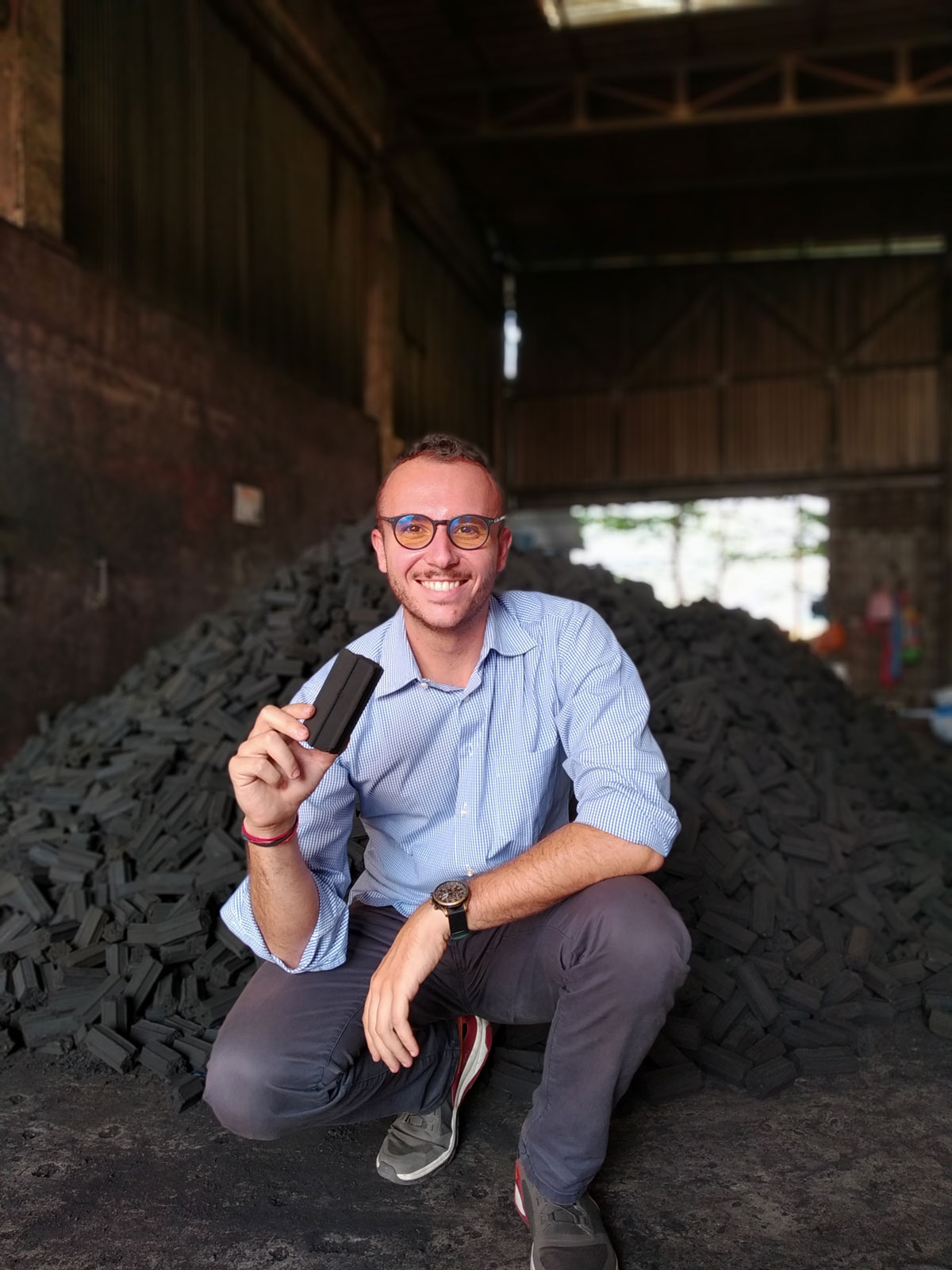 "To continue achieving our objective, what is important is to provide our customers with high standards of quality and customer service. If our char-briquettes are not good enough, customers don't buy them. Only when you can give them a product they actually want, then everyone wins", said Francesco Carocci, an Italian project manager, who joined KGC in 2017.
Unlike traditional charcoal, KGC's charcoal is made with a combination of burnt charcoal and coconut shells.

"For the raw material, we get them from various coconut stores sold in kilograms," said Seang Phalla, a Khmer Project Manager who, prior to working for KGC, spent her childhood with Pour un Sourire d'Enfant Cambodia (PSE).
As of now, KGC has 2 main charcoal products, Diamond and Premium Char-Briquettes, as well as fire starters made with coconut fibers and candle wax leftovers collected from pagodas around Phnom Penh. Recently KGC has also started selling sustainable wood charcoal called "KjuonGo" coming from certified sustainable forests.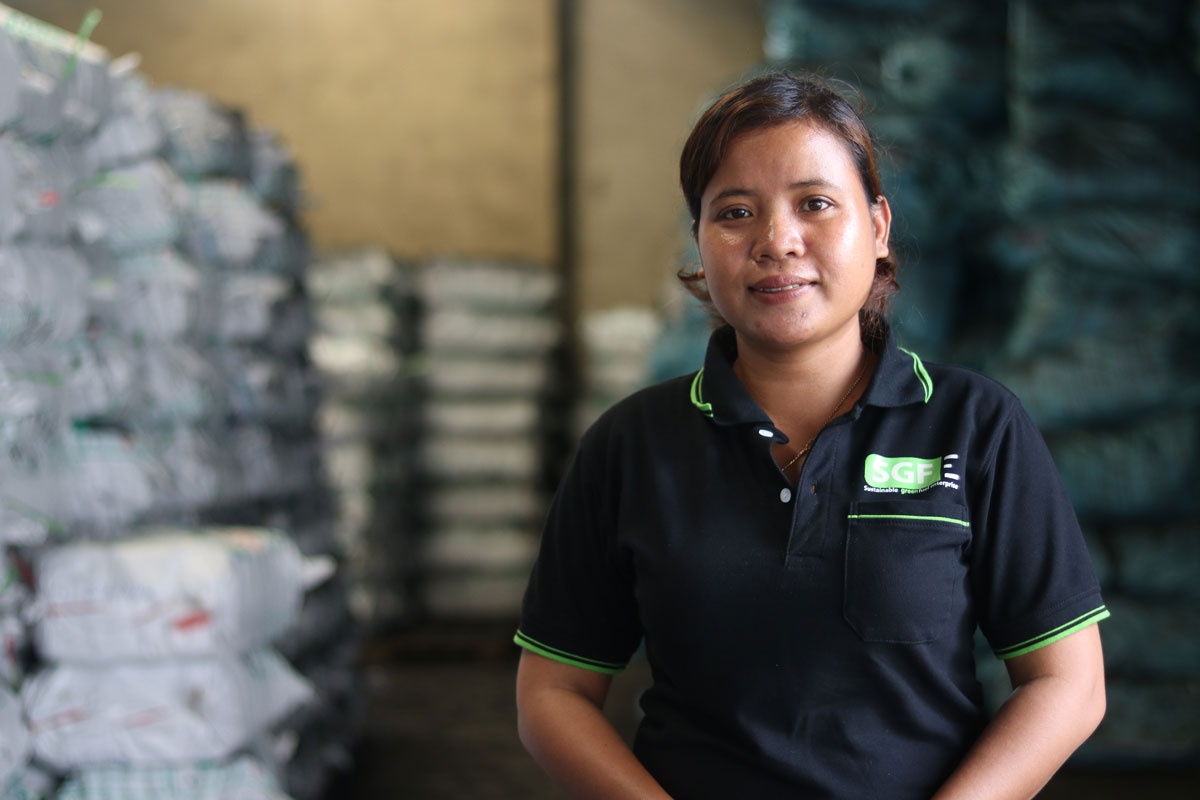 Chemical free, made of coconut shells and waste biomass and burning for about 5 hours, KGC points out that their products make no smoke, no spark and have an attractive and consistent shape.
Located in Steung Meanchey, KGC produces 4 tons of char-briquettes per day and supplies over 6,500 charcoal sellers, restaurants and street food vendors throughout the city. As sales skyrocketed in 2019, KGC planned to expand in Cambodia by building a new factory, 5 times larger than the current space, however, Covid-19 put their plan on-hold.
"Because we sold well in 2019, we were expected to have an amazing 2020. But, when Covid-19 first hit hard, we lost 70% of our sales as less people were going to restaurants, or buying food from street vendors", said Francesco.
Beyond its environmental impact, helping people suffering from financial hardship is KGC's primary goal. Employing people living in the Steung Mean Chey area, KGC's founders believe with fair wages their employees will be able to support their children's education and improve their future.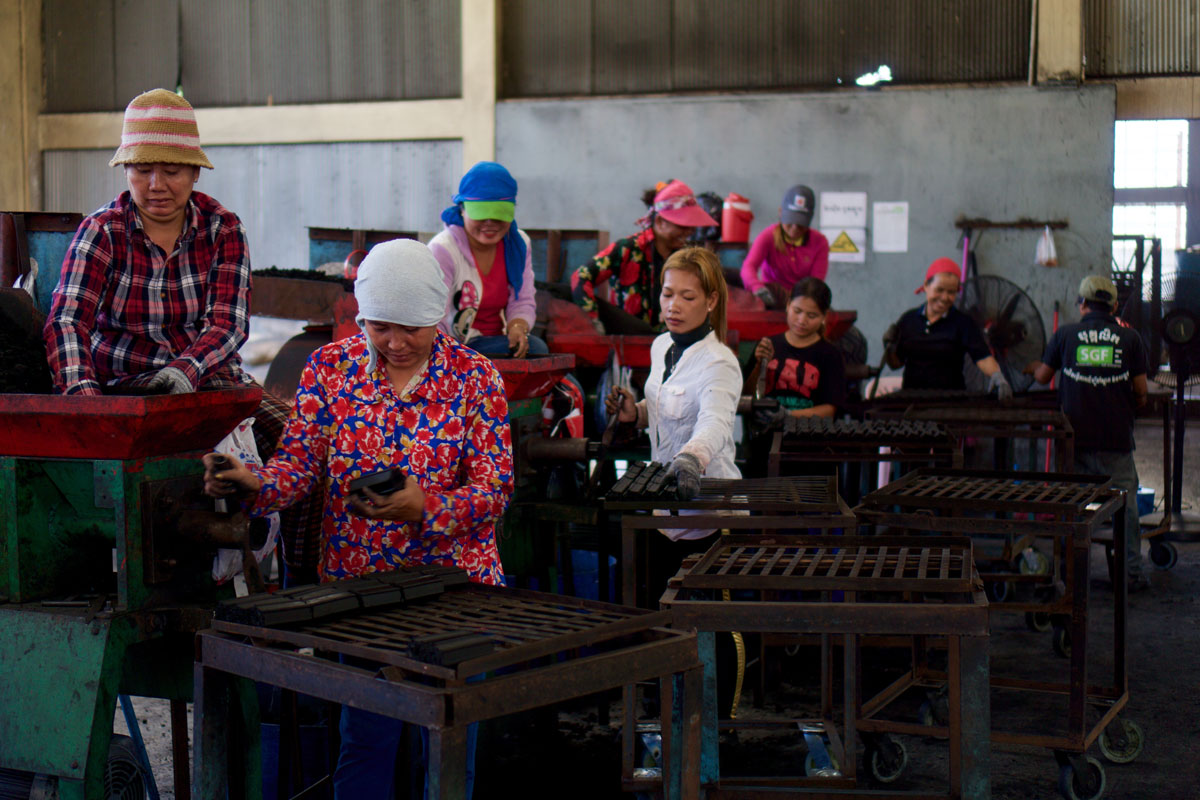 When asked about the challenge of raising brand awareness for its green aspect, Francesco said, "It is a big challenge, as Cambodia is not yet as sensitive to environmental sustainability as other countries."
For Cambodia to have more awareness and understanding about clean and sustainable energy, Francesco believes education and increased public discussion is the key. "Having entirely renewable energy doesn't happen in one year, as in other countries, it takes some time. Nevertheless, I see Cambodian people going in the right direction, becoming more aware about environmental aspects, as well as valuing more and more clean and sustainable energy", Francesco concluded.
This article is a part of Clean Energy Week Cambodia 2020. Find out more about Clean Energy Week Cambodia 2020 here: http://cleanenergycambodia.org/cleanenergyweek
This post is also available in:

KH