As a partner in a global network, Teach For Cambodia is on a mission to reimagine education in the Kingdom, enlisting promising future leaders to carry the torch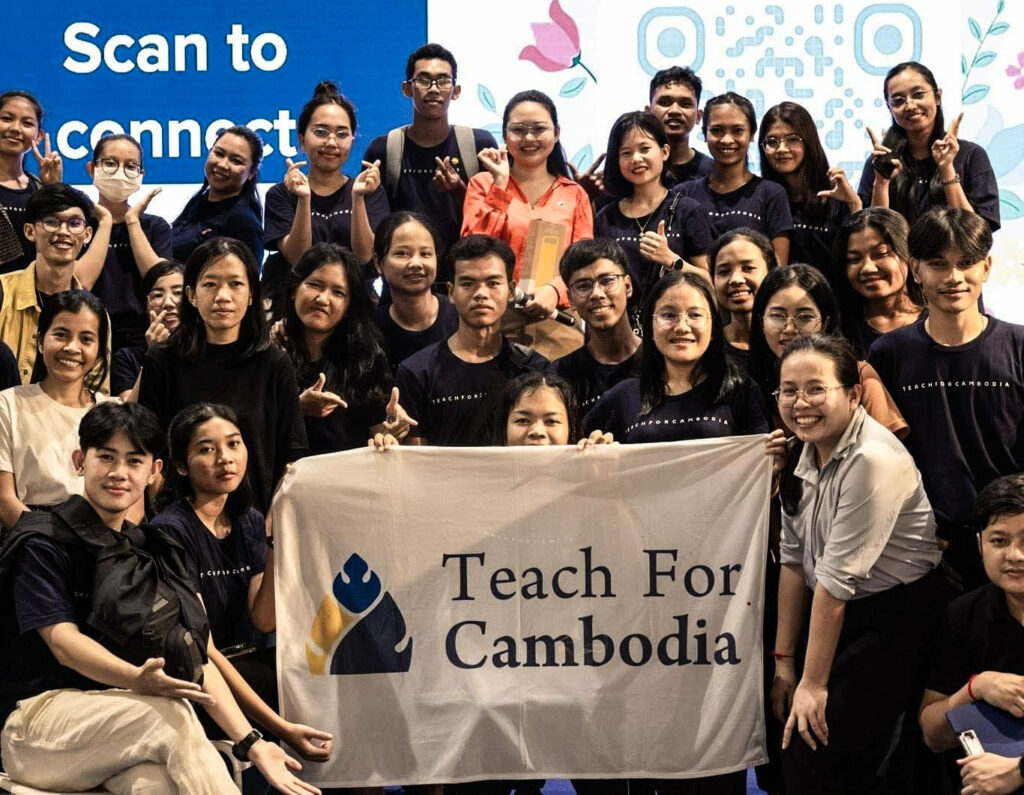 ---
More than 30 years after the signing of the Paris Peace Agreements, millions of Cambodians still suffer from the devastating effects of the Khmer Rouge and more than a decade of conflict. Nowhere is that more evident than in the nation's education system, where, as of 2022, 70 percent of Cambodian 10-year-olds were unable to read and comprehend a single sentence in their native Khmer language, according to data from the World Bank.
This is the crisis of educational inequity, a divide between the affluent and poor, urban and rural. The cycle of disparities in access to fair education is often identified as being perpetuated by several factors, including socioeconomic status, the aforementioned shortage of teachers, and sometimes a lack of commitment from schools to assist students in reimagining their futures.
Conversely, some progress has been made in overall educational standards. According to Cambodia's Ministry of Education the literacy rate among adults, aged 15 and over, increased to 87.8 percent in 2020, remarkably up from 77.6 percent in 2008.
But as the Kingdom sets its sights on advancing its economy, its digital economy, and upskilling its labour force, the country's dysfunctional educational system is perhaps the linchpin for any future development.
Teach For Cambodia (TFC) sees this educational crisis compounded by unresolved systemic issues and beliefs. The home-grown organisation, although not a school, is working toward reimagining education and is enlisting the nation's most promising future leaders to do so.

In 2017, TFC became the 45th partner of the global Teach For All network, now grown to more than 60 members. Its goal is to recruit and develop local leaders to teach in their nations' most high-need classrooms, working to expand life opportunities for young learners.
TFC's fellowship program, deployed to attract young and bright Cambodians, often matches individuals of similar socioeconomic backgrounds with the students they will be trained to teach.
Keeping in mind the organisation's mantra to put Cambodian children on a better "educational and, perhaps, life trajectory", Focus met with TFC Founder and CEO Monirath Siv and its COO, Jojo Lam, to learn about their work and the state of Cambodian classrooms.
What is Teach For Cambodia's vision and mission? How is the organisation investing in the education of Cambodians?
Teach For Cambodia is a community of young, locally led Cambodians, recent college graduates, professionals of all careers and fields, who commit to two years of teaching full time in public schools with a lack of resources. Our fellows usually have a lifelong commitment to creating a better future for the country through education.
Could you tell more about the fellowships? Who are your usual candidates?
Fellows, especially after their time with us, have a professed lifelong commitment to abolishing educational inequity in the country. At minimum we require fellows to have bachelor degrees, in any subject.
And what are the competencies we're looking for in order for folks to thrive in those two years? We are looking for fellows who have respect and humility, the ability to navigate constant change, have critical thinking and problem-solving ability.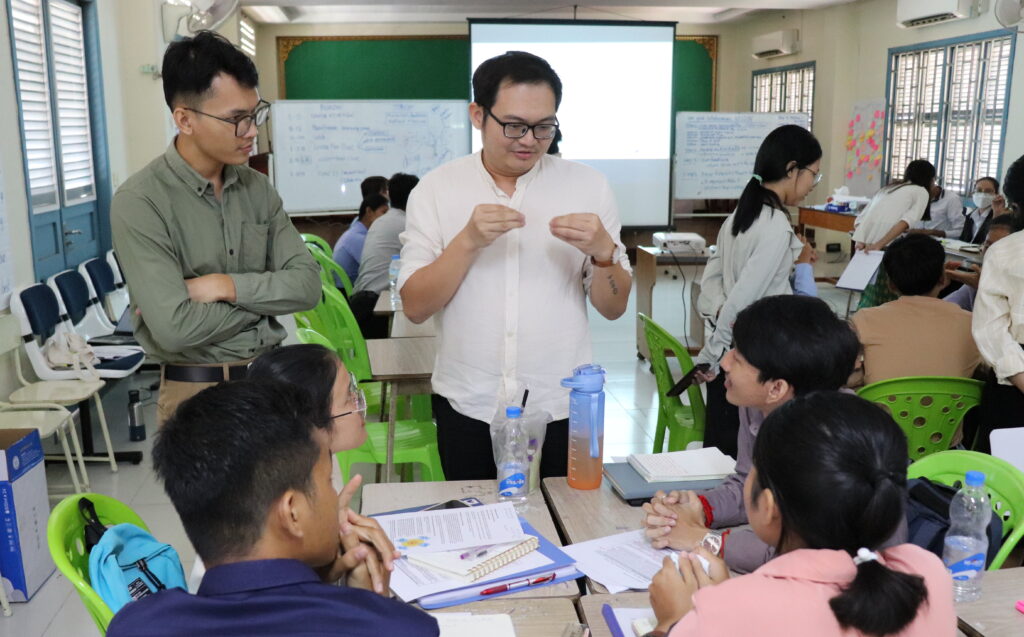 What are the issues and present challenges in Cambodia's education system? What is TFC's modus operandi for tackling educational inequity?
I think right now we are undergoing a mission shift. The big question that TFC is asking itself is: If we want to prepare for the future, what kind of outcomes shall we work towards now? And our argument is that preparing kids just for a job is no longer sufficient.
When we talk to corporate partners – who all seem to be futurists in a way – we get wind of an ever-evolving complexity of issues, not just in education but for jobs as economies change, and not just in Cambodia but around the world.
The school system we have today in Cambodia has not changed for over 100 years, when there were different aspirations for different purposes, for different challenges and for different opportunities.
The school system that we're putting educators in is an outdated system reconfigured in a digital space. And so I think we have to reorient ourselves. Therefore, TFC is preparing our kids and fellows to be future leaders with "competency proficiency", awareness and emotional skills that are necessities for a long-term outcome.
TFC places its fellows in the most underprivileged schools to combat educational inequality. How do you envision these placements helping rid disparities in access to education in impoverished communities?
The problem of educational inequity is complex and we need future leaders; children, our fellows, alumni and the community all must be a part of resolving the issue.
Our placements are based on the need for adaptive learning and new discovery. So our model stands on transformational coaching, shifting the mindset. Then we can show new teaching practices. We do a lot of that on account of strategic placement. Our aspiration would be to scale further nationwide. But that would require a lot more resources financially, technical skills and expertise.
After consultation with both the public and private sector, we decided to go to poor urban communities and rural areas. Now we are mostly in Phnom Penh and Kandal, and we are working predominantly in basic (public) education.
Who provides funding for TFC? Are you getting more resources from the private or public sector?
There are some principles that we use to build and develop our nonprofit organisation.
The first principle is independence. We like to operate with 100 percent integrity. Remaining independent is very important to TFC because we are serving this country and its children.
The second principle for us is that we will take on both public and private partnerships. Private-sector funding enables us to innovate and experiment, while public-sector partnership means that we can operate in public schools where the majority of the country's students are, and can share learnings with the system as a whole.
How can the education structure in Cambodia be re-evaluated to effectively integrate both the economic-focused philosophy of providing practical skills for better socio-economic status and the philosophy of enhancing individuals' lives through education, fostering curiosity and developing broader life skills?
They both have the same answer. I wouldn't say it's two different philosophies. It's actually really concrete.
Let's take the COVID-19 lockdown, for example – a rare school closure that happened for 42 weeks. As a result, there's now a severe learning loss taking shape. But before the closure a lot of kids were already years behind their reading level, writing level and numeracy skills. So now our children are facing these challenges of mental and social health on top of exacerbated learning loss.
Then when you're talking about labour and getting students ready for work – the truth of it is to what extent can students be ready for a future in the workforce when you have these sorts of things happening at the primary and secondary school level?
There now appears to be, as in most classrooms around the world, a push for more digitalisation and implementation of AI in Cambodian schools and curriculums. What is TFC's viewpoint on incorporating such tech?
With the technological capabilities that we are beginning to have at our disposal, I would advise that the technology not necessarily go straight into the hands of children, but into the hands of transformational teachers.
AI has a place. It can play a role with the right data system and metrics so that the teacher – now unburdened by constant lesson planning – can introduce a hybrid education model.
Last year, TFC piloted AI in three public schools and it produced powerful results. By working and designing the system with an Australian company, we were able to triple the maths outcome. We could get students to absorb three years' worth of curriculum in just one year – so we see the power in it.
But it's not either or. It's not an AI or teacher. It's AI, teacher and student.