Understanding the cycling trend in Phnom Penh and its health benefits.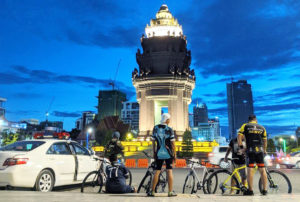 It is safe to say that Cambodians have discovered a new hobby, and that hobby is cycling. Every day, people of all ages and genders on bicycles are no longer an odd sight in the city. Riding a bicycle used to be associated with being from an underprivileged background, unable to afford a motorcycle or car – often referred to as a cheap means of transportation. 
Men, women and children can be seen cycling along the wide streets of Phnom Penh and neither the Independence Monument and Koh Pich Conventional Center are off-limits to the city's cyclists. 
People commonly cycle in groups of around four or five people but, occasionally, even in a group of 10. On the weekends, Akreiy Ksatr, just a ferry away from the city, becomes the popular spot for many bikers, due to its beauty and fresh air.
Cycling has many health benefits, such as – leg strength, improved mental health,  reduced stress, a stronger immune system, burning calories & boosting metabolism, and better posture and coordination. Cycling also does not use any gas or fuel, helping to reduce greenhouse gas emissions in the city, as well as reducing noise.
The uptake in cycling has prompted both amusement and confusion to some of the city's residents, who wonder when and why the trend started. Many short-lived crazes have come and gone in Cambodia, so some are curious just how long will this cycling craze last. 

One Phnom Penh resident believes the trend has been amplified by social media.
"I believe there are a lot of people who have been into cycling long ago. But, they do not post anything on social media – I think only the newbies do," said Ung Panhawath, a 29-year-old who lives in the city. "I think social media plays a big role here. It would be great if it lasts, but I am not that optimistic about it."
Covid-19, the pandemic and the resulting lockdown may have something to do with the rise of the two-wheel phenomenon in Phnom Penh where the number of cyclists rose during this period. In Europe, citizens started to adopt cycling as a replacement for traditionally packed and cramped public transportation. 
Meng Hang, a 27 year old dentist who picked up cycling in early-July, believes that the love of cycling has been in some people for a long time already. He wanted to change his lifestyle, become more active and took up cycling to help do this. He believes that boredom and health awareness can help explain the cycling-surge during the pandemic. 
"I don't think it has just become famous now, but I would say it started to grow big during the spread of Covid-19 because people started to care about their health more, as well as have more free time," Hang said. "They had nothing to do during the pandemic – that is why they try to find something to do in order to detoxify themselves." 
When asked why they started to pick up the hobby, many of the newbie cyclists cite health and socialize reasons. Hang said that unlike motorcycles or cars, when cycling you can see friends and greet one another. "That is the bond of the cycling community," he said. 
There has also been growing demand for bicycles, some costing up to $1200. Bicycles are no longer seen as a cheap form of transport, but rather a symbol of luxury. To the public eye, those who can afford off-road or mountain bicycles must be wealthy. Hang said that he spent over $1500 for his bike and used part of his salary to purchase it. 
"Health outweighs the cost, so it is not really a problem for me," Hang said. "But, safety  is what I'm concerned about – the issue is the fact that we do not have cycling lanes yet, so we share the same lane with motorcycles and cars."  
Meth Measpheakdey, Phnom Penh city spokesman, said he is elated to see the public start to value their health. Measpheakdey also explained that while cycling lines are being mooted, a change in the way people drive must come first. "Traffic congestion needs to be reduced in order to have a proper bicycle lane – it can be done when the public pay attention to how they drive," he said. "Bicycle lanes are in discussion and we plan to have separate lanes for motorcycles, cars and a space for bicycles. We hope this will encourage more people to start cycling."
This post is also available in:

KH