What will schooling look like in a post-Covid world? What effects are current digital education solutions having on students?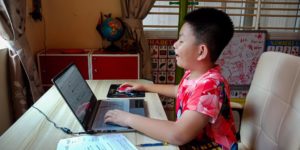 According to UNESCO, well over 1 billion students have been affected by school closures in response to the outbreak of Covid-19 as of June 22nd. Making up over 62% of the total enrolled learners around the world, the majority of these displaced students are having to carry on their studies through digital means, like the internet or television broadcasts. With the continued uncertainty of when in-person classes will begin again, it would appear that distance learning will be the norm for the foreseeable future.
What does this mean for the future of education? Will learning ever be "normal" again?
In Cambodia, the Ministry of Education, Youth, and Sport (MoEYS) announced the closing of all of the Kingdom's 13,300 schools effective March 16th, both public and private. While public schools generally do not have the same technological capabilities to continue their instructions online, there has been a concerted effort to try and ensure that students do not fall too far behind.
MoEYS, in collaboration with UNICEF, has put together a series of recorded videos and lessons that are broadcast to students via radio, television, and various social media platforms, to reach as many learners as possible. The hope is that parents and caregivers will tune in to continue student's learning and development while they are out of the classroom.
Children of younger ages have access to a multilingual radio broadcast, available in Tumpuon, Kreung, and Bunong, as well as 23 education videos available on various platforms. For more advanced grades, 70 video e-lessons, as well as 633 learning videos, are available to continue their learning.
According to Katheryn Bennett, UNICEF Cambodia's Chief of Education, "The multilingual education radio programme is not only helping to address the learning needs of some of the most vulnerable children in Cambodia, but is complementing other diverse distance learning services being delivered by the Ministry of Education, Youth, and Sport, with UNICEF support, through use of online platforms and TV. As a result, many thousands of children are able to keep learning."
While MoEYS has been making sure that students have access to resources that will allow them to continue their education, private schools have been able to offer more advanced modes of learning during the closure of schools.
Focus was able to speak with a principal of an established private international school in Phnom Penh on the condition of anonymity, so as to not disparage other institutions who may have taken different approaches to the pandemic.
"Our school began taking notice of the COVID-19 crisis late in January. We formed a Crisis Response Committee and began planning for the eventuality that students would be learning from home. We created a website to inform parents and guardians, and began training teachers in technologies needed for online learning. From there, teachers worked with students while they were still in school to get them connected using online platforms," said the principal.
Private schools were able to have an advantage over public schools in that they had more available resources to stay connected with their students once distance learning was implemented.
"Once the order from the MoEYS came through about switching to online learning, we set up staggered times for parents and students to come in, borrow devices, and collect materials they would need to continue seamless learning from home," the principal continued.
Beyond the physical resources that private institutions have available, they also have more control over the digital resources they have at their disposal.
"Our teachers have autonomy to choose the platforms that work for them and their subject areas. These may differ according to grade level and subject taught," the principal said of their teachers' ability to choose what digital resources they used. "Various learning apps are also used based on the individual lesson and subject."
While learning has been able to continue in various ways during the Covid-19 pandemic, is it an indicator of the lengths that the education systems will go to make sure students are still developing, or is this a glimpse at what the future holds?
While distance learning has been around since the 1800's thanks to the postal service, the internet has been a key catalyst in increasing the prevalence of the practice, particularly in higher education. In the year 2000, 8% of college students were enrolled in an online course, with that number jumping to nearly 30% by 2013. A large number of universities even offer fully online degree programs, for both undergraduate and graduate students.
There can be drawbacks to the reliance on technology, however.
According to an article written by Dr. Papia Bawa, an instructor at Purdue University, online college classes have a 10% to 20% higher failure rate than those held in-person, with 40% to 80% eventually dropping out of the online courses. Many students cite lack of engagement and digital literacy on the part of the instructors as some of the main reasons they decide to leave.
What does this mean for students who are receiving instruction from teachers who have been thrust into an online education system, away from their schools and classmates?
When asked how students had been adapting to distance learning, the previously mentioned principal said, "The answer to this question is complex, and requires delineation between early years and older students. Our kindergarten students have struggled the most with the transition, as it necessitates the active intervention of parents on a daily basis. Many parents are still working or do not have the English levels required to assist their children."
"Older students, with their eagerness and already-established familiarity with the online platforms, seem to take to online learning more readily and we have seen positive feedback from those students, especially with regard to later waking times and increased availability of teachers for individual assistance. Our students do, however, miss their classmates and, as we know, socialization is key in the balanced development of students.  This is an area in which we struggle to help our students," continued the educator.
Social isolation from their classmates who are in their peer group can have profound effects on the development of children.
An article published about the possible impact of social isolation on children during the Covid-19 reviewed 63 studies on the subject and found that there was clear evidence that prolonged periods of forced social isolation in children and adolescents led to a marked increase in levels of depression and anxiety. The article also mentioned a link between feelings of loneliness and future mental health problems up to 9 years later.
One study reviewed in the article focused on the mental health problems after forced isolation and quarantine during previous pandemics and found that children who had experienced these situations were five times more likely to require mental health services and experienced higher levels of post-traumatic stress.
Some schools have put measures in place to help mitigate these risks associated with forced social isolation.
"Our counselors and support staff plan on holding small group video chats to gauge emotional health and offer counseling if necessary.  We are content that our academic program is solid and can be delivered online with effective support from teachers; however, we will be working to ensure the emotional and mental support our students need in this difficult time as well," the principal told Focus.
This post is also available in:

KH