With the onslaught of crises around the world, the news in 2020 has been full of one stressful event after another. How long until we are burnt out by crisis?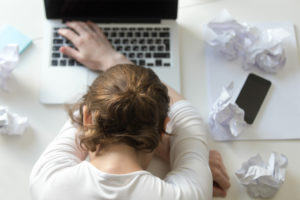 Crisis fatigue, also known as compassion fatigue or secondary traumatic stress, occurs when people are emotionally and physically exhausted from being overwhelmed with stimulus from disasters, trauma, or illness, either directly or indirectly.
The term compassion fatigue is believed to have first been coined by Carla Joinson in a 1992 article for Nursing Magazine to describe the severe negative impact hospital nurses were experiencing as a result of their daily exposure to patient emergencies. She outlined the characteristics of the condition to include chronic fatigue, irritability, dread of going to work, and a lack of joy in life.
Firdaus S. Dhabhar, a PhD professor in the department of psychiatry and behavioral sciences at the University of Miami Miller School of Medicine, spoke with Healthline, a health information site, about crisis fatigue and said, "The fight-or-flight response, or short-term stress, is our friend. The biological stress response can protect us during challenging situations or crises."
"However, when stress becomes chronic and persists for weeks, months, or years, it can have harmful effects, and in particularly repetitive or severe conditions, could lead to crisis fatigue."
While this condition has been traditionally seen to occur in "helping" professions, such as healthcare or law enforcement, journalism analysts argue that the wide availability of mass news media has caused the general public to also experience the effects of disaster fatigue.

Media's Role in Crisis Fatigue
The Dart Center for Journalism and Trauma, a think tank for journalists who cover violence, conflict and tragedy around the world, includes in their handbook the following:
"People react differently to trauma and traumatic stress. Some cope without trouble. Many will find trauma distressing, but get over it fairly quickly – usually within a couple of months. A minority however – journalists and programme-makers included – will experience more serious physical and psychological distress. It is vital that this is recognized, understood and accepted."
While the trauma or crisis felt around the world may not have a direct impact on the well-being of the population at large, second-hand exposure through the media can have serious, harmful effects on people. This is especially true since the ubiquity of social media has made instant sharing of news and media possible.
The wildfires that raged through Australia earlier in the year produced videos of thousands of houses burning down, leaving families with nothing. Animals were caught on video trying to take shelter with people that they had avoided only days before, desperate as their habitats were wiped off the map.
While the relatively closed off media outlets of China downplayed the scale of the Covid-19 outbreak in the country, when the coronavirus made its way to European countries like Italy and began to ravage the population, the world was shown the level of devastation the pandemic could have.
Social media was full of disturbing images of families having to wait for authorities to come take away the bodies of loved ones who had passed away. Media sources were full of pleas from people to social distance and to take the threat seriously. Videos of police and military roaming the streets of major cities, enforcing strict stay-at-home orders, led off the nightly news around the world.
The video of George Floyd's murder by a police officer has been played millions of times on traditional news media and social media sources, sparking ongoing protests and demonstrations across the United States and various cities around the world.
Other major crises such as locust swarms in Africa devastating the local food supply, the downing of a Ukranian airliner by Iran, the impeachment of United States' president Donald Trump, and the emergence of the so-called "murder hornets" in America, were all minor blips on the media radar that in other years would have been major events.
This onslaught of continued crisis after crisis has left many around the world worn out and finding their ability to devote emotional resources to all the events all depleted.
How Does Crisis Fatigue Affect People?
A recent study conducted in Canada focusing on the population's response to the Covid-19 pandemic showed that 31% of respondents were feeling more fatigued in the weeks leading up to the study, with another 28% describing themselves as more anxious. This has had serious effects on the level of precaution taken by those questioned, with only 36% staying away from public places to the same level as during the initial outbreak, and only 56% continuing to keep extra space between themselves and other people.
Dr. Petros Levounis, the chair of the psychiatry department at Rutgers New Jersey Medical School, outlined the symptoms of crisis fatigue to Healthline, stating there are generally two directions in which they might go.
"One is the hyperarousal, or high anxiety, state where people are irritable and any little thing may get them triggered," he said. "Even a reminder of the crisis could result in a disproportionate emotional response from the person."
Levounis continued, "The other side, which is more severe and more significant, and also less easy to diagnose, is when people are withdrawn. Instead of high anxiety, they show no anxiety or they resign to the crisis and don't seem concerned about the crisis or situation."
"They show no concern regarding the things that need to be done or consequences that may result from the crisis."
This supports the findings from the Canadian study, where feelings of anxiety and fatigue plagued the majority of respondents. The apathetic approach the same group had towards continued precautions against infection shows the resignation that Levounis describes in his statements.
How to Manage Crisis Fatigue
While crisis fatigue may seem to be unavoidable, here are some suggested ways that people could mitigate the worst of it.
Focus on physical well-being: exercise and proper nutrition and sleep are important in managing stress levels.
Stay connected: make sure to stay in contact with friends and family. Communication can be extremely helpful in relieving stress.
Keep your routine: sticking as close as possible to your everyday activities will help you have a sense of normalcy
Limit media: putting restrictions on the amount of time spent taking in news and social media content can limit the amount of stress and anxiety you accumulate.
Do what you love: hobbies and other distractions pull the focus away from negative stimuli and allow you to focus on something different.
Meditation: having some time set aside to quiet the mind has been shown to help reduce stress levels.
This post is also available in:

KH