Mondulkiri is Cambodia's largest yet most sparsely populated province, home to evergreen forests and undulating hills. We visit the Jahoo Gibbon Camp and the Elephant Valley Project, two ecotourism initiatives aiming to protect some of the country's most endangered wildlife as well as the land that the indigenous Bunong have lived off for centuries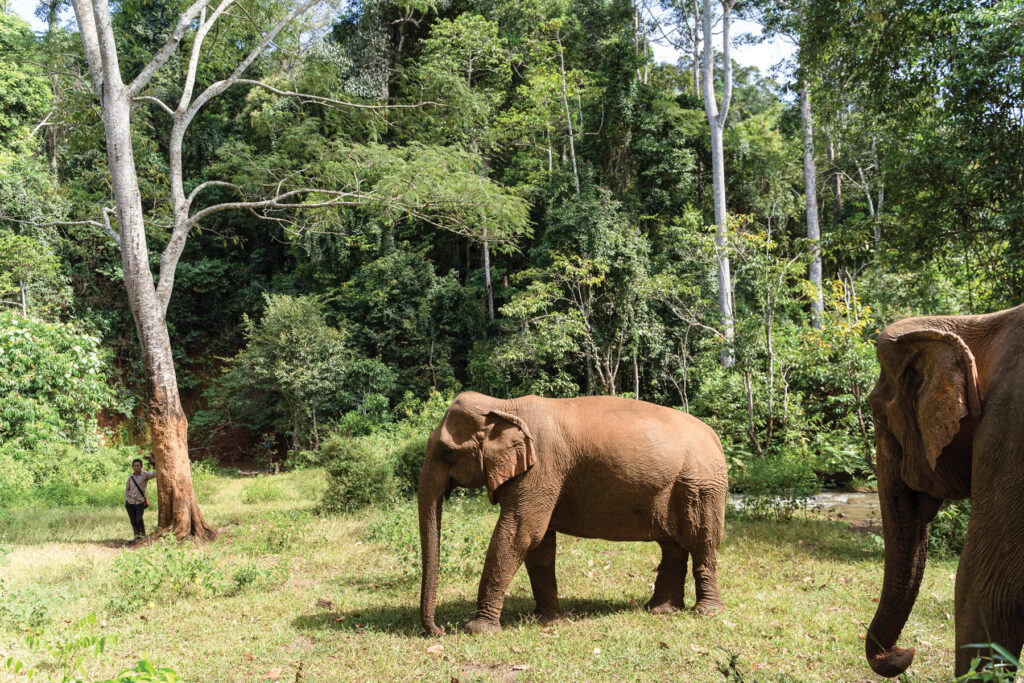 Words by Cristyn Lloyd, Photography by Thomas Cristofoletti
It's half past five in the morning and the chase is on. The rules are straightforward: walk slowly; stay quiet; don't disturb the trees. Clambering through unfamiliar terrain, we try to mute the crunch of vegetation beneath our feet for fear of spooking those that hide beyond the canopy, in the tallest stretch of trees. It's hard to divert our eyes from the floor lest we trip, but we are here to look up.
Behind the piercing screech of cicadas and the quiver of birdsong we hear their early morning opera, a soprano that ascends sharply to a mournful wail. The expert eyes of our Bunong community guide, Hong, detect the slightest movement above – a sudden halt leaves us fumbling to follow his line of vision and pointed finger. "Gibbon," says Chan Hear, a project intern helping with translations.
Even aided by binoculars, only sometimes do we spot the trace of the jet black coat that swings between dense branches. He's singing in distress, we're told – it's unusual to find a gibbon on its own. Most likely, he has been pushed out of his family. We stalk his movements in silence as he flies deeper into the forest.
This is the southern yellow-cheeked crested gibbon, a primate endangered by habitat loss in the north-east region of Cambodia, where there are just 1,000 or so of the creatures left. A guided trek takes us into the heart of Keo Seima Wildlife Sanctuary in Mondulkiri province, a 3,000-square-kilometre protected area of forest which holds an impressive number of key wildlife and threatened species, including wild cats, Asian elephants and the porcelain-faced black-shanked douc langur, an endangered monkey.

A community ecotourism project managed by World Hope International in the Bunong-majority Andoung Kralong village is offering visitors the chance to catch a glimpse of these rare primates as well as other colourful birdlife. While day trips are available, we opted for an overnight stay at the clean and comfortable accommodation at Jahoo Gibbon Camp, ideal for gibbon-spotting in the early hours, when the creatures are most active.
One of a number of ecotourism outfits in the province drawing tourists in the name of wildlife-spotting, the initiative takes money gathered from visitors and injects it back into the community. A successful viewing of each kind of primate means another $15 gets added to the Community Development Fund, a pot that goes towards community projects and which aims to prove that conservation efforts are worthwhile.
Our quest to sight the elusive gibbons would have to wait until the second day of our adventure, though. On our first day we were to see an entirely different array of wonders as we set off from Jahoo, around 30 kilometres from where we were picked up that morning in central Mondulkiri, and enter the forest's outstretched arms.
Dense clusters of thick bamboo stalks intersect chaotically to form an obstacle course of natural tunnels through the forest. The shoots groan and creak in the breeze as we duck to pass under their archways, easily mistaken for the howl of invisible wildlife.
Mberk, our guide on day one, is a master navigator through the thick evergreen brush in which we quickly lose our sense of orientation. A gently sloping path takes us past natural curios invisible to our untrained eyes. Dimples on the forest floor and mud-stained trunks – natural scratching posts – reveal the trace of the Asian elephant, while countless deep cuts on another tree were probably carved from young sun bears learning to climb. We also encounter bats camping out inside hollow bamboo shells as well as a giant black squirrel perched precariously on faraway limbs.
Each corner has its own secret – we learn about the traditional medicine and rice wine forged from the forest in which the Bunong have called home for thousands of years.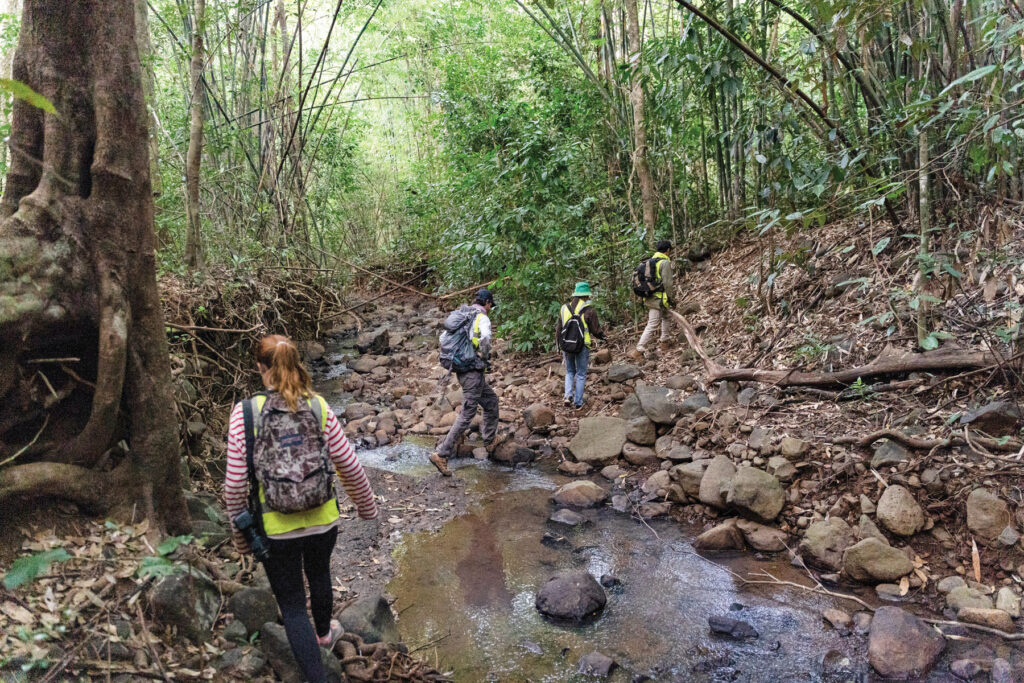 The heart of the Bunong's animist traditions says they are the protectors of the forest and the spirits that live within, so-called good spirits and bad spirits, which must be appeased lest misfortune fall on the community. Razing sacred spirit forests is strictly taboo.
The largest indigenous group in Mondulkiri, the once-remote Bunong community have in recent decades come under threat from increasing outside interest and influence. The illegal logging of luxury timber has depleted the natural resources that their livelihoods depend on, while government concessions to foreign-owned agribusinesses have stripped them of their ancestral land.
Through tourism, community projects like those at Jahoo aim to protect this rapidly changing culture at odds with a modern world creeping ever closer.
These seemingly remote parts still bear the scars of a tragic history. While the details are hazy, Chan Hear tells us that the wooden sheath of Mberk's machete came from his father – the strap which hangs from his waist was salvaged from a US plane crash, a reminder of the American bombs which were dropped over Cambodia for years during its civil war in the early 70s. Etched into the belt's metal buckle is the skeleton of Angkor Wat, the flag of Democratic Kampuchea and ensign of the genocidal Khmer Rouge.
Our lunch is foraged from the forest. Mberk slices off the tough palm leaves of the rattan plant – popular in Cambodia for wicker furniture – to leave only its stem, the core of which we are told is a key ingredient in Bunong bamboo soup.
With the help of Chan Hear, Mberk stuffs a hollow bamboo shoot he had hacked earlier with stubs of the rattan, along with eggplant and a healthy dose of bright red chilies. Add water, and the tube cooks on the homemade fire before being served in another bamboo flute, this one split through its centre to create the perfect serving trough.
For dessert, we eat two crabs hand-picked from a shallow end of a waterfall's rocky pool, killed by wrenching off a pincer that is then used to stab its own belly.
Most impressive of the forest's vegetation is the strangler fig – starting off as a seed dropped by an animal on a crevice high up in the canopy, its roots grow downwards, fusing together to form an intricate lattice that wraps around its host, literally smothering it to death.
Like guardians of the forest, mammoth roots spill from ancient trunks that outsize their neighbours ten to one, flooding every spare pocket of the forest before melting under its carpet.
A warm shower upon our return to Sen Monorom, the capital of Mondulkiri, is welcomed with perhaps too much excitement. We are rewarded by our exertions over the past two days with a stay in easily the nicest lodgings offered by the area, the Mayura Hill Resort, a luxury hideaway in the rolling expanse of wilderness that surrounds it.
Each spacious villa boasts a private balcony overlooking tropical gardens, and while we are only a five-minute drive from the town, it's quiet and cosy, ideal for an early night spent cuddled with a book, a well-earned beer and a dip in the pool. The slight chill is also a welcome relief from Cambodia's usual unrelenting heat.
Our wildlife outings are not over yet though – tomorrow we'll come close to an equally majestic yet less elusive animal, the Asian elephant.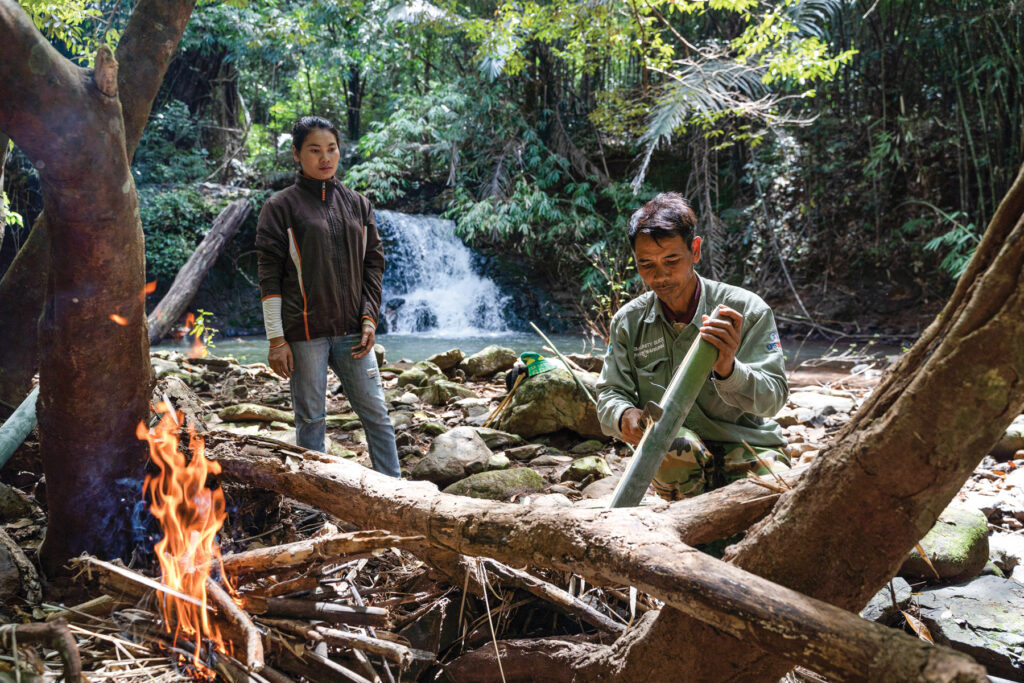 The Elephant Valley Project (EVP) runs the province's premier elephant sanctuary, a decade-old operation which cares for ten of Cambodia's population of captive Asian elephants. EVP offers anything in between half-day outings to week-long volunteer schemes to give tourists a chance to get better acquainted with animals that have been rescued from a lifetime of labour, and who are now enjoying their twilight years in peace. Unlike other elephant initiatives in the province, EVP doesn't promote animal feeding, riding or bathing.
A gentle guided hike takes us into the 1,500-hectare forest sanctuary, located a half-hour drive out of town. We pass down into Elephant Heaven Valley, so called because of the richness of vines, tree roots, and other treats for the elephants to feast on as they roam and scavenge. On our half-day visit we meet the three-ton beauties Doe and Darling as they wander through a clear patch of land into a shaded river. After they are bathed by the mahout – keepers of the elephants – they fling mud from the pool's banks onto their backs in a joyous display to protect themselves from the sun.
We are told of their history together – they are traditional village elephants, passed on to the sanctuary by their blind and ageing owner. Darling is around 60, while the more precocious Doe is closer to 40. She had run away from the bounds of the sanctuary the previous July for two days before returning on her own, living up to her name, which means "go" in Khmer. EVP still allows the Bunong to keep ownership of their elephants, as they recognise that they are an important source of income for the family. By leasing the animals to the sanctuary, they can continue to earn money from them.
Our short stint with the elephants offers a slower-paced finish to our adventures in Mondulkiri – while others in our group head deeper into the forest, we are back in town in time for lunch, our reluctant first steps back to city life.​
Where to stay
The Mayura Hill Resort offers the best lodgings in the mountainous Mondulkiri, boasting modern villas, a swimming pool and a quality restaurant surrounded by a vista of wilderness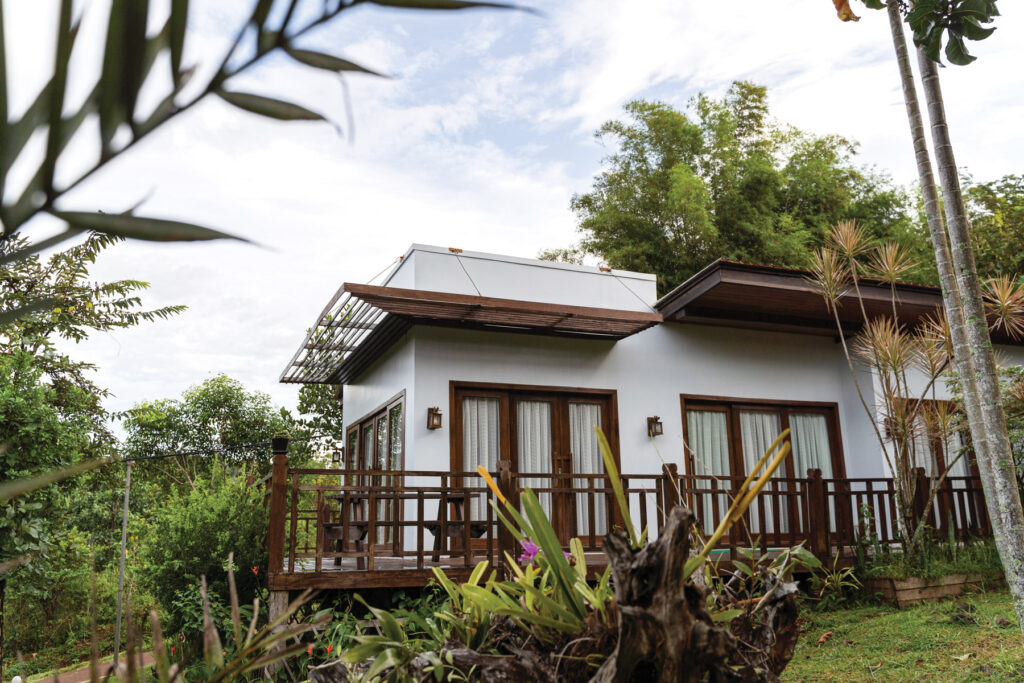 This story was originally published on Discover magazine 2020/21 vol.