Social media has become one of the largest platforms for information sharing around the globe. When does the need to access this information go too far?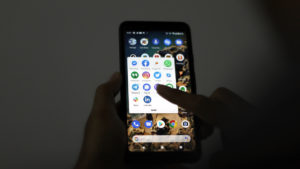 We all recognize that familiar vibration in our pocket or the melodic ding of a notification from our phones. An essential part of our everyday lives, phones are the link to the different aspects of our world. Whether it's answering emails for work, sending a text message to your significant other, or posting a photo for your friends to see, phones keep us connected.
When does being too connected become a problem, though?
According to a 2017 article published in the international journal Technology in Society, it's estimated that over 210 million people are addicted to the internet and social media worldwide, with that number surely having risen since that time.
The cause of this addiction is deeply rooted inside the brain. Receiving a social media notification has the same effect on the brain as winning at a slot machine or using cocaine, according to Harvard University researcher Trevor Haynes. As outlined in his article, social media apps are designed to stimulate the same neural pathways as gambling and cocaine to ensure that users keep coming back.
Our brains release a chemical called dopamine that is released when we perform actions that we enjoy, such as eating food we enjoy or having sex. It is not so much the "pleasure chemical" that it is made out to be, as much as it is a motivator to repeat actions that result in desired outcomes. Dopamine travels along the various neural pathways, stimulating a positive feeling and reinforcing the bodies desire to perform the same action.

This is how addiction begins.
While the dopamine release is not to the same level as other activities, social media notifications provide a continuous positive stimulation of the brain, reinforcing the body's desire to repeat the action. Using social media all but guarantees you will repeatedly receive those notifications from your group of followers or friends, making you want to visit the app more and continue to use the platform to get more likes or views.
These mini dopamine dumps we experience throughout the day have not only affected our behavior, but also the very structure of our brains.
The continuous need for dopamine associated with social media addiction has shown to have an effect on the structure of different parts of the brain. A 2017 study on social media addiction found that reduced grey matter in certain areas of the brain led to a more efficient impulsive brain system, similar to those of people with gambling and drug addictions. This leads to a reduced ability to regulate impulsive behavior, such as checking your phone for notifications.
The effect social media has on people is not only physical, however.
Psychologist Melissa G. Hunt at the University of Pennsylvania published a study in 2018 that showed a causal link between social media usage and feelings of depression and loneliness. The study monitored two groups of students for two different 3-week periods, recording their phone usage and the amount of time spent on various social media platforms. 
Participants were asked to fill out periodic surveys that assessed their levels of different markers for well-being, such as anxiety, self-esteem, depression, and loneliness. After being randomly assigned a social media platform (Facebook, Instagram or Snapchat), the students were asked to limit the amount of time spent on their respective platform to 10 minutes a day for the duration of the study, with a control group making no changes.
The results showed that those who limited their social media usage had significantly lowered their levels of depression and loneliness over the 3-week period, as compared to the control group. According to the researchers, the "findings strongly suggest that limiting social media use to approximately 30 minutes per day may lead to significant improvement in well-being."
Mental health is not the only casualty of the social media saturation felt around the world.
During a talk at the Stanford Graduate School of Business, former Vice President of User Growth at Facebook, Chamath Palihapitiya, said of social media platforms, "The short-term, dopamine-driven feedback loops that we have created are destroying how society works. This is a global problem."
He continued, "It is eroding the core foundations of how people behave by and between each other, and I don't have a good solution. My solution is I just don't use these tools anymore. I haven't for years."
Palihapitiya was addressing the growing division among populations around the world that has been fed by social media. The ability to post often controversial opinions and unchecked facts by large groups of people in order to elicit responses has created a digital society where people spend hours arguing online. The need to be right overrides the sense of reasoning, leaving people to obsess over the next comment that they can respond to.
According to an article published in the academic journal Psychological Reports in April 2012 by Cecilie Schou Andreassen, there are five indicators that someone may be addicted to social media:
Mood Swings – social media is used to regulate mood or make themselves feel better

Relevance – thoughts are dominated by social media, even when not using it

Tolerance – the amount of time spent on social media increases, looking to replicate the same feelings as previously encountered

Withdrawal – sleep and eating patterns are disturbed and signs of anxiety and depression present when social media is not accessible

Real-life conflicts – relationships with people in real life (family and friends) are negatively impacted by the inability to stop using social media
If you or someone you know is exhibiting these signs, there is help. Organizations like the Transcultural Psychosocial Organization (TPO) Cambodia offer mental health support for anyone in need.
This post is also available in:

KH