Sleep paralysis can be scary, but there are ways to manage it and break the spell.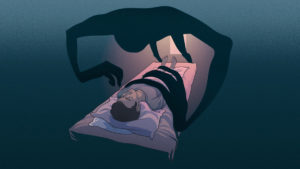 Sleep paralysis is one of the worst nightmares. Feeling suffocated and frightened, unable to move but you can hear and see everything, hallucinating and seeing creatures who violently push you down. This isn't a nightmare you are having, but the common symptoms of sleep paralysis.
In Cambodia, sleep paralysis is often called 'the ghost pushing you down', originating from a spiritual belief that the condition comes from one's bad luck, rather than health causes. But does it really relate to how lucky you are?
According to the UK's National Health Service (NHS), sleep paralysis is a situation whereby you cannot move or speak when you start to fall asleep or wake up. This is because you are physically in sleep mode, yet your brain remains active. It could be harmless, but it can be frightening.
Kendall Jenner, the world's highest-paid model, once experienced sleep paralysis and explained it on her family's reality TV show, Keeping up with the Kardashians. Jenner explained how it had haunted her life and almost ruined her modeling career in 2016, as she was scared to fall asleep. It put her off flying around the country for work.
The National Sleep Foundation, an organization working to improve the understanding of sleep, says that sleep paralysis can be driven by a number of factors. Insomnia, narcolepsy, post-traumatic stress disorder, anxiety and a family history of sleep paralysis can all contribute to the condition.

The National Institute of Health (NIH), a medical research agency in the US, conducted an investigation on Cambodian refugees and the link between trauma and sleep paralysis. Their findings show that among 100 Cambodian refugees, 42% of them had experienced sleep paralysis at least once within a year. This is an aspect of the Cambodian refugees' response to previous trauma.
Experts' tips to deal with sleep paralysis:
Don't fight against your body, it will only make the sleep paralysis worse; just be calm and remind yourself that it is just temporary.

Slowly relax your mind and muscles when you're in bed.

Try making a small movement to send a signal to your brain, either by

making a fist or wiggling a toe, similar to the efforts paralytics attempt in physical therapy.

Though your body is frozen, your lungs are still working. When your voice fails you, try coughing as it won't be stopped by the paralysis. You can use this technique to get the attention of your sleep partner, or even to wake up your own mind.

Try to regularly get 6 to 8 hours of sleep every night.

Go to bed at roughly the same time every night and get up at the same time in the morning.

Do regular exercise, but not in the 4 hours before going to bed.

Feel relaxed and do not think about negative experiences or thoughts.

Don't smoke or drink alcohol and caffeine – don't have a large meal before going to bed, either.

Don't sleep on your back, it can make sleep paralysis more likely.

Consume herbal remedies that improve your sleep, such as: herbal teas, lavender and essential oils. Apply the latter to your hands and wrists, to help you sleep better.
This post is also available in:

KH