For modern travelers, ecotourism is a growing trend, especially popular for young people and this sustainable traveling makes for both a relaxing getaway and a means to help the locals.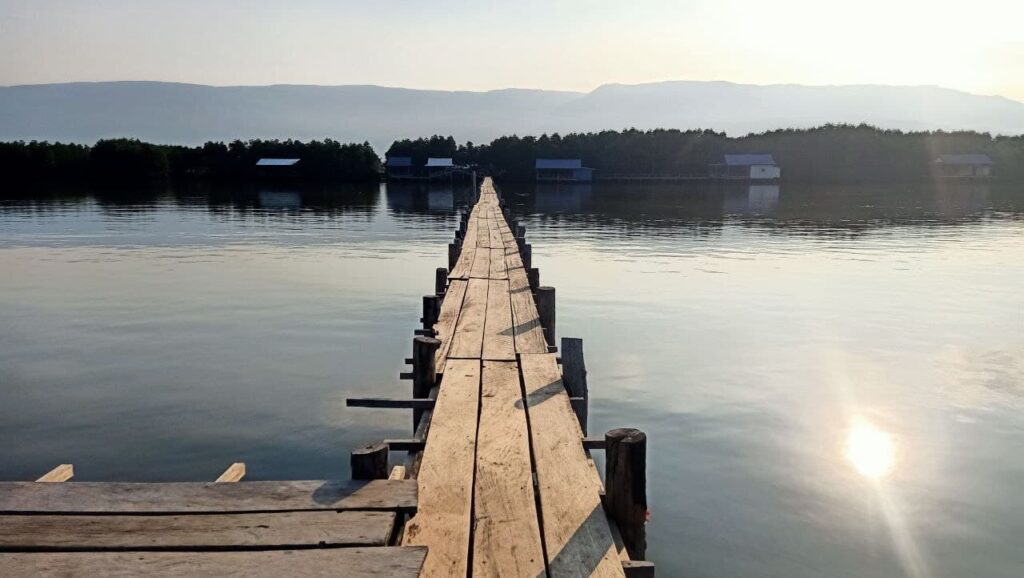 Ecotourism is defined as "responsible travel to natural areas that conserves the environment, sustains the well-being of the local people, and involves interpretation and education." 
Exploring nature while staying with host families brings people closer to nature and the atmosphere of a place. Ecotourism deepens travelers' sense of adventure, as it brings people to more unknown and remote places and homestays give a sense of family-life, home-cooked food and a chance to interact with the communities while also providing a living to the host families and reducing migration from these communities. 
Where to Visit, suggested by
Cambodian Eats!
We hope you have read our previous five featured articles and enjoyed the videos and illustrations in Cambodian Eats! In the series, we explore the local dishes of each province and the stories of their communities, focusing on food, culture, and the environmental issues facing local people. With all five provinces holding different attractions, from highlands to the sea, the Focus team picked ecotourism locations where people can explore and learn about nature and the local people.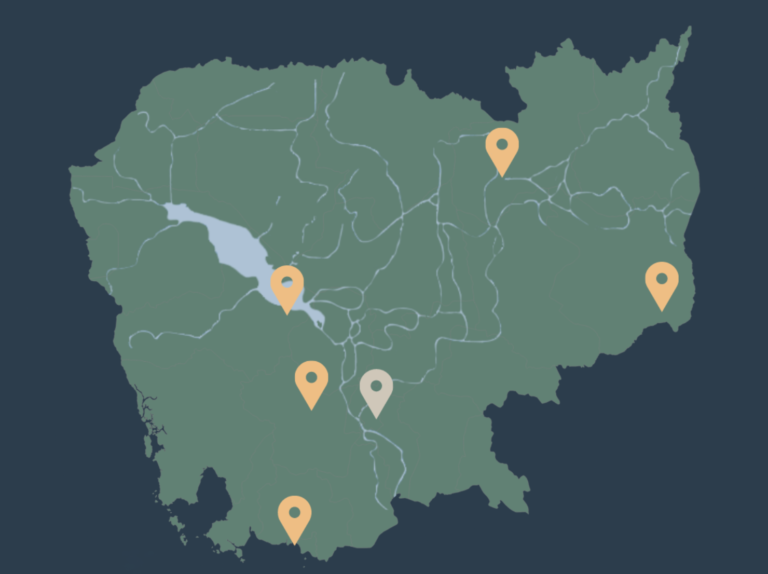 The highlands and indigenous people​
Dak Dam Commune
A perfect place to experience life with the Bunong people, the Dak Dam commune is just 30 minutes by car from the Senmonorom provincial town of Mondulkiri.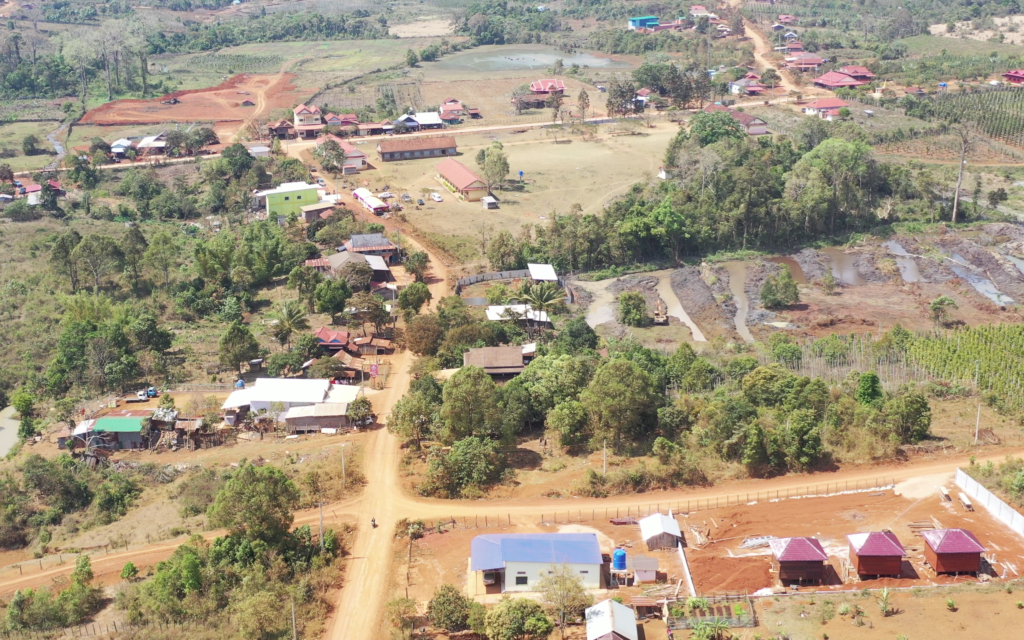 Der Prey and Young Eco Ambassador, together since 2018, created a forest exploration program with the Dak Dam community and provide management and hospitality training to the community. Dak Dam homestays service does not have specific contact with any tourist agency, though, so to get there travelers need to directly contact local people or ask for further information from YEA or Der Prey. 
Dak Dam's homestays are located in Putrenag village, with natural attractions like the Chrey Thom Waterfall and treks where senior citizens take tourists to the forest and tell stories about their community.  Since homestays in Dak Dam are hosted by Bunong families, these homestays contribute to the families' livelihoods while establishing a connection between indigenous Bunong and visitors.  
The Mondulkiri project: exploring and meeting elephants
The Mondulkiri project is a registered NGO that offers one or two day elephant and trekking tours with profits going to protect forests and take care of the elephant sanctuary. Their tours are elephant ride-free which means tourists can only walk and make friends with the elephants and their local employees who are happy to guide visitors.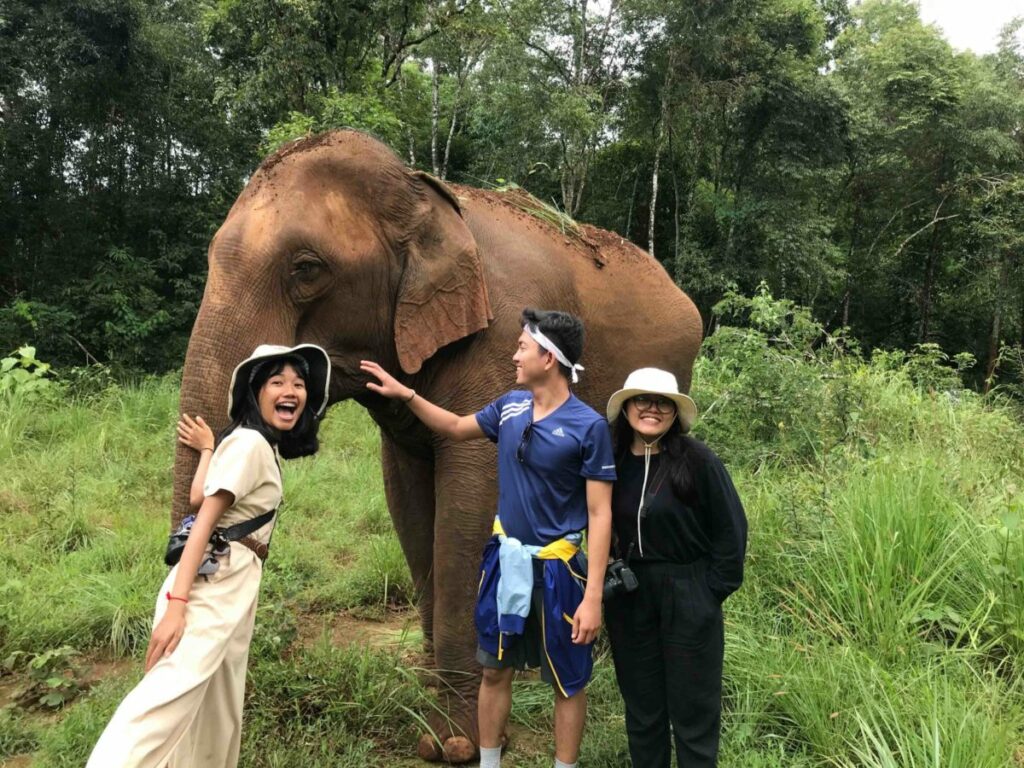 Focus reporters visited the Mondulkiri Project in late 2020.
Starting at 50$ for a day trip, tourists will follow their English-speaking local guide on a jungle trek in an area protected by the Mondulkiri project where the visitors meet the five friendly elephants and their mahouts. Lunch is provided on the day–tour package and swimming in the forest is also an afternoon activity. For the two-day trip, travelers enjoy deeper treks into the forest, swimming, waterfalls, and taking in trees, flowers, vines, and bamboo. The night allows travelers to spend time with the locals who cook Bunong traditional food, drink local wine and finish with the experience of sleeping in a hammock. 
This project allows us to travel sustainably, understand Mondulkiri and meet adorable elephants that all were rescued from their previous heavy works. These trips also benefit local people who work in the project, sustains their elephant sanctuary and can be booked directly on their website. 
The project has also been affected by the Covid-19 outbreak and travel restrictions, so to sustain their elephant sanctuary and the project itself, people can help by donating. 
Featured in our second episode, Stung Treng is home to the famous Mekongina fish, a high-priced seasonal fish.  With four rivers flowing across Stung Treng, this province holds the keys to nature and the biodiversity of its rivers, hosting rich fish stocks and flooded forests. It may be a quiet province, but their community-based tourism is something to look forward to. 
O'svay community 
O'Svay community-based ecotourism project has been formed by five villages ( O'Svay village, O'Run, Koh Phnov, Koh Hib, and Voeun Sien village) and four surrounding islands. This community provides homestay so travelers can spend their time with locals while they explore the Mekong river and flooded forests. With the support of the Culture and Environment Preservation Association, ecotourism was established in 2007 in O'svay, the most popular area in the province, famous for the preservation of wildlife, including birds, fish, and the Irrawaddy Dolphins, as well as for its forestry preservation and the Ramsar wetlands area. 
Located on national road number 7, travelers to O'svay village have the option to choose either boat or motorbike/car to travel from the provincial town. From O'svay, there are many available boats and travelers can journey to other eco-tourism sites or even the Lao border.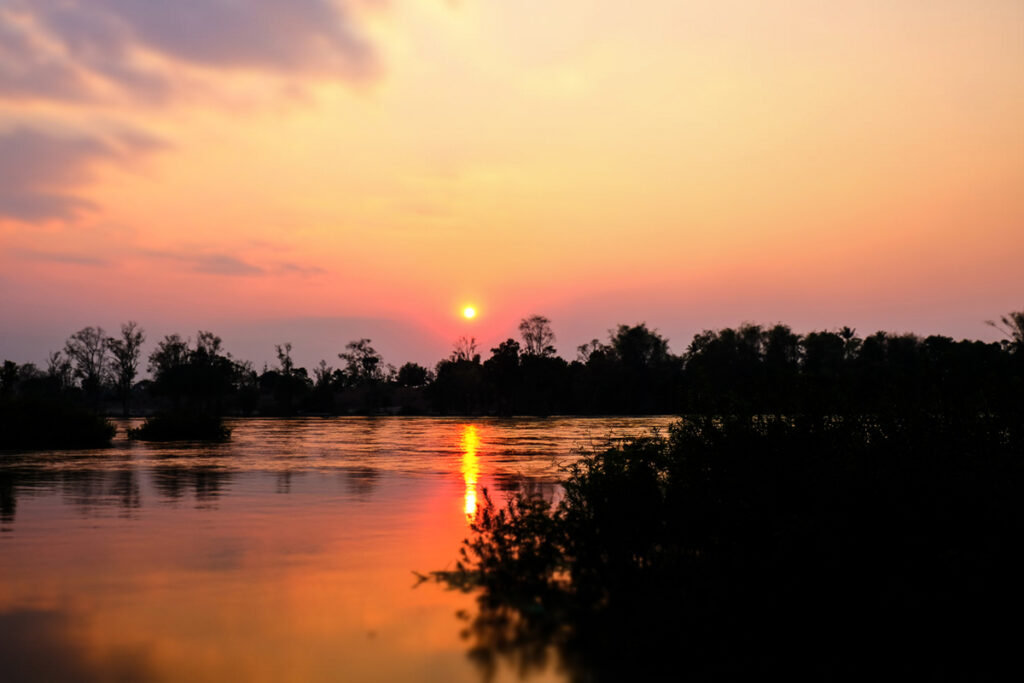 Sun set in O'svay (Photo from Impact Explorer)
O'svay community ecotourism has a well-established information center in their village, and booking and information are also easy to find at the provincial tourism center. This community service has been running for a decade and the project provides sustainable tourism and opportunities for local people to gain employment, earn profits and at the same time, protect local wildlife and biodiversity.
Preah Rumkel 
Preah Rumkel Community-based tourism project was established in 2007 with support from an environmental NGO called Mlup Baitong, with the aim to increase opportunities for local people in this remote part of Cambodia. The community in Preah Rumkel village, bordering Laos has a well-established homestay scheme and is connected to Anlong Cheuteal Irrawaddy dolphin pool. 
The main attraction of this community is Irrawaddy dolphin watching, bird watching, the Sopheakmith Waterfall and great homestay choices in a village of Khmer-Laotians families. Bike riding in the village is also available and with a one or two day trip, anyone could have a great time enjoying the local vibe and nature.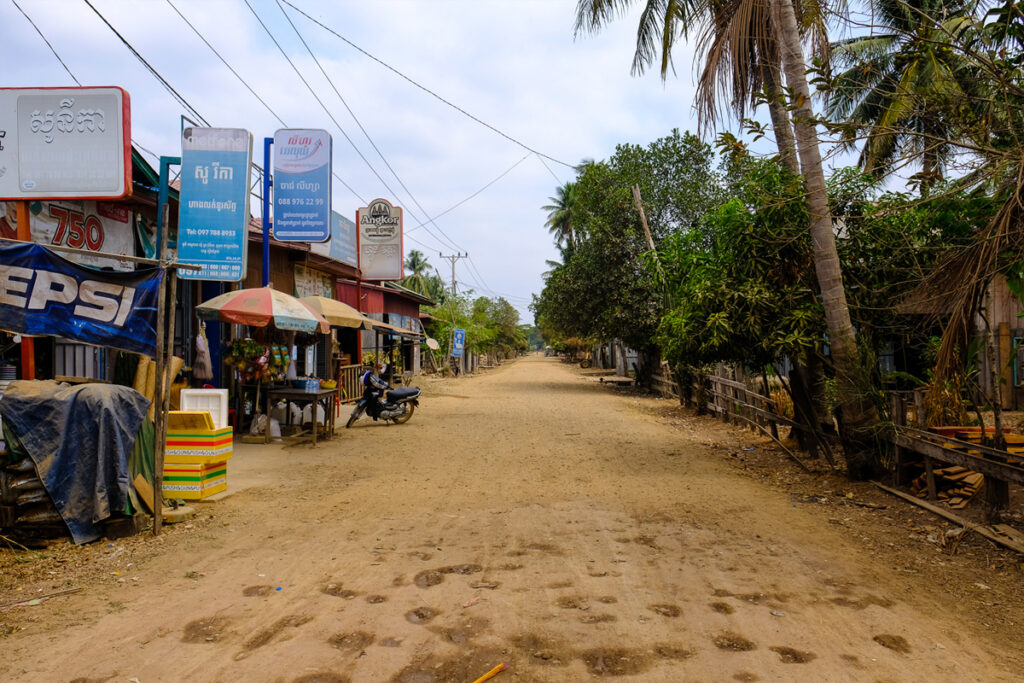 Inside Preah Rumkel village (Photo from Impact Explorer)
From Stung Treng town, a minibus goes directly from the provincial town to the village but with a limited option of one time only per day, some travelers choose to rent a motorbike or car to get there.  
Koh Han 
Koh Han Island is an ecotourism project that brings together islands and wetlands in Samaki District, north of Stung Treng town. The community on Koh Snaeng Island offers homestays and nature-based experiences for visitors like bird watching and exploring forests, limestone rocks, and sandy island shores. There is a heavy Laotian influence on Koh Snaeng local's language and food even though the area is home to both Khmer and Laotians. 
Available homestays are on Koh Snaeng, in the Khmer style. The best things to do for explorers are boat riding and walking in the village and forest but what is relaly impressive about the stay is the Laotians feast cooked by the locals with traditional methods.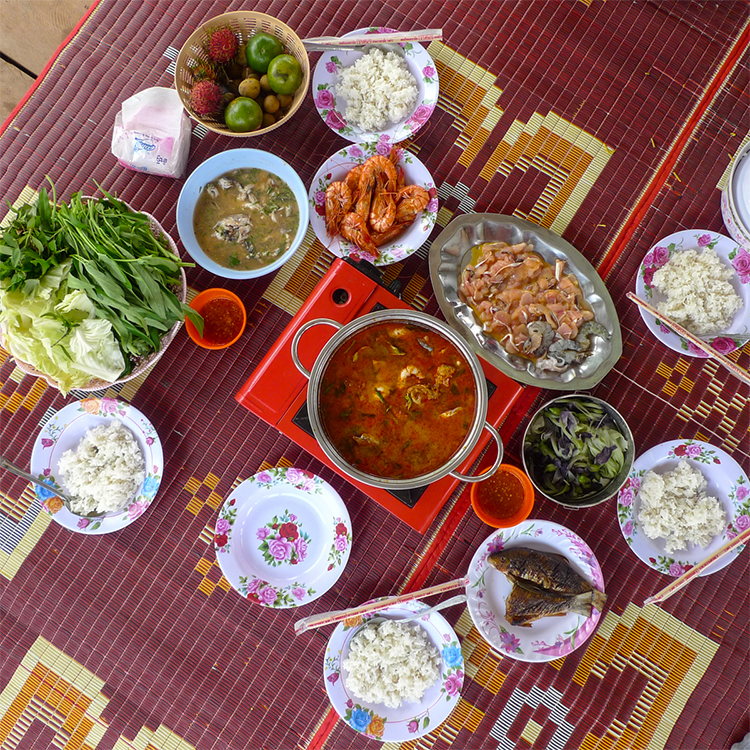 (Photo from Impact Explorer)
Koh Han Island is located North of Stung Treng town on the Mekong River. It can be accessed from national road number 7 or by boat. To get to Koh Han, travelers need to leave town by bus or taxi, usually from the Mekongina fish statue roundabout in town, to Koh Han ferry, then take a 10 minute boat to Koh Han and Koh Snaeng where the host family will be waiting. Booking in advance for a private boat to pick you up from the ferry.
One in five provinces is located around the Tonle Sap, and in the third series of Cambodian Eats! we got to know a floating village located in Pursat. But there are also some other ecotourism locations that tourists should visit and explore.
Kampong Loung floating village 
You might have learned something about this village in the third article of Cambodian Eats! but there is more to mention about ecotourism in this area. Kampong Loung floating village is located in Tonle Sap lake, about 30 kilometers from the city of Pursat.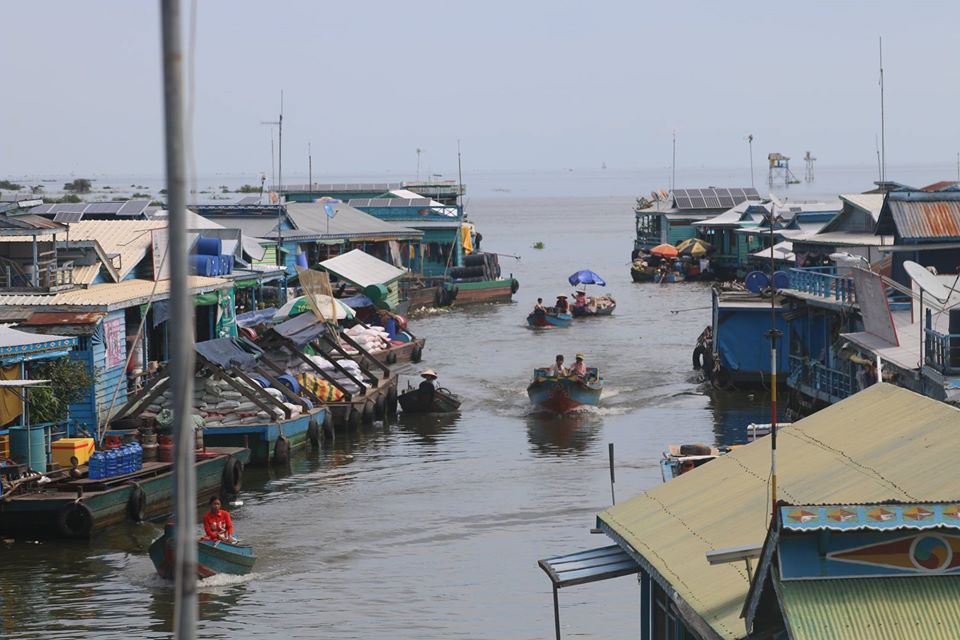 Kampong Loung floating village tourism project aims to improve the livelihoods of people in the community, was locally established and operates without any support from NGOs or the local government. Some men have boats that are available for tourists to rent and some of the women help facilitate homestays for visitors so they don't need to worry about the food and accommodation once they arrive. 
Tourists can rent boats to see Kampong Loung floating village and get a chance to understand the culture of both the Khmer and Vietnamese people who live there, and see how they work together in harmony. Moreover, you will get a great new experience of life on the water during a homestay with the friendly and welcoming local people. 
Sadly, the ecotourism efforts do not reach many tourists and, as a result, this remote and difficult to access place is overlooked by many tourists. But if you are adventurous and love to explore new places, Kampong Loung floating village should be your next destination. 
Cardamom mountains or Krâvanh Mountains
Cardamom or Krâvanh Mountains are a rainforest mountain range between Cambodia and Thailand and is a place full of biodiverse landscapes, unique wildlife, and ethnic minority groups. In Cambodia, this 4.4 million hectare area is located across Koh Kong and Pursat provinces and used to be a battlefield in the Khmer Rouge era, however, tourism is now on the rise. 
Before the war, there was plentiful wildlife in this area, including Asian elephants, leopards, pangolin, sun bear, Siamese crocodile, and plenty of insects and reptiles. However, as the war was waged, many large animals were killed or forced to flee and now it is difficult to catch a glimpse of that impressive wildlife. Even so, there are still other things you can enjoy in this area and, since it is in the cool mountains, camping is one of the best activities. Cardamom Tented Camp is a great option that will teach you how to protect nature in the company of the beautiful forest. 
In the fourth episode of Cambodia Eats!, we took the audience to the coastal province of Kampot. About 138 km south via National Road 3 from the bustling capital's high-rise buildings, this province is rich in potential thanks to the sea, nature, and historic colonial buildings.​
Trapeang Ropov Fishing Community
Away from the city of Kampot about 30 kilometre, Trapeang Ropov Fishing Community consists of Prek Kreng and Trapeang Ropov villages, borders Sihanoukville and the Prek Tnaot fishing community, and is about 3 km long and 1251 hectares in size. 
Trapeang Ropov Fishing Community was turned into an ecotourism site in 2019, thanks to ecological conservation sites such as mangrove forests and fish sanctuaries. 
Besides the fresh seafood available for purchase directly from the fishermen in the community, the tourists visiting Trapeang Ropov Fishing Community can go to see the coral and seagrass while learning about the livelihood of people in the community. 
The wooden pier leading into the sea is a very attractive sight for tourists to take photos and the mangrove forest is a great experience for visitors, who can also buy the mangrove trees to plant in the community. Visitors can also enjoy fresh seafood cooked by community chefs using local recipes. 
Prek Thnout Community-Based Ecotourism Site
Established in 2007 under the support of Save Cambodia's Wildlife, Prek Thnout Community-Based Ecotourism is located near the Trapeang Ropov Community, about 30 kilometers from Kampot town. At the community you can discover unique experiences, beautiful nature, and fresh air while supporting the community.
The community also has guides to describe and educate visitors about the natural attractions, including waterfalls and mangroves as well as the birds, monkeys, dolphins, and dugongs that can be seen there. Various services such as boat trips are also available in the community and visitors can also take a closer look at the Rattan handicraft production and weaving center. 
With the $3 entrance price going to the community development fund, it is a great site for a day trip for anyone in the area. 
Trapeang Sangkae Community
Similar to the other fishing villages in the Kampot Province, Trapeang Sangkae is another community where tourists can help conserve the mangrove trees that are essential for the health and biodiversity of the coastal province.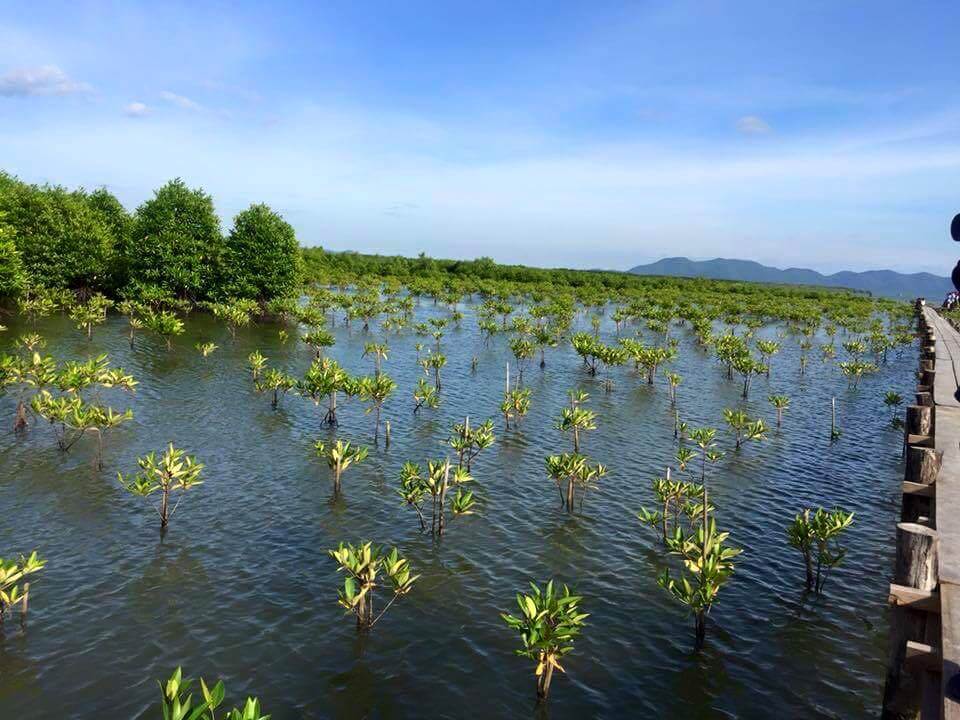 Located about 8 Kilometres from the Durian Roundabout, Trapeang Sangkae Community is easily reached by motorbike, tuktuk, or car and features a community house where visitors can stay. 
The community has various attractions, such as boat cruises, fishing, cooking, kayaking, and day trips with local fishermen as well as watching the sunset and sunrise through the Mangrove forest. Visitors support the nearly 500 families living in this fishing community and help them maintain their way of life.
Chambok Community
Chambok Community is a locally managed eco-tourism site located on 1260 hectares of protected forest on the outskirts of  Kirirom National Park. The project is made up of 9 villages, containing 1800 people and is located around 110km from Phnom Penh. Headed by Mlup Baitong, ecotourism in the community was established in 2002 and aims to protect local biodiversity and support the residents' livelihoods.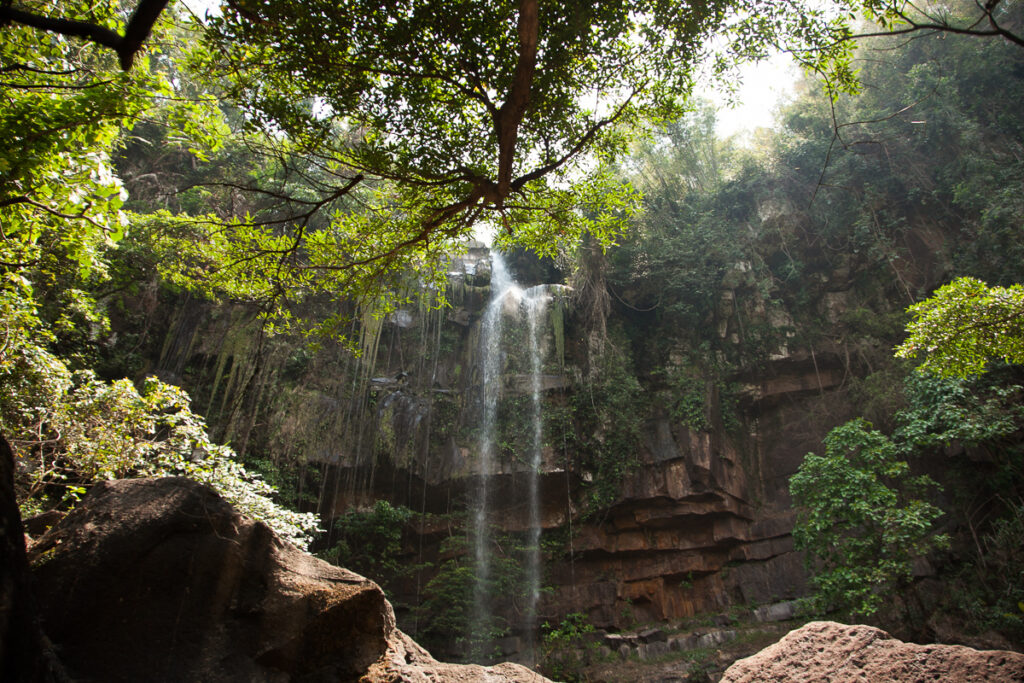 A variety of activities are available including trekking to swim in beautiful waterfalls, exploring bat-caves and relaxing ox-carts rides to experience traditional transportation in Cambodia. Homestays are also available to take tourists deeper in the life of local villagers. 
The Chambok community's website provides detailed information about the community and the tourism that creates income for community members and has improved their lives. In the tourism industry, the community spends 40% on conservation, 25% on providing support to disadvantaged groups, 20% on community development funds, and saves 15% for reserve funds.
Phnom Aural
With a height of 1813 metres, Phnom Aural is the tallest mountain in Cambodia and is east of the Central Cardamoms National Park. Phnom Aural is covered by evergreen forest and is a great destination for those who want to challenge themselves to reach the highest point in Cambodia. 
Usually, visitors to Phnom Aural start at the local homestay in Srekenbei village, then continue trekking up the mountain, where rangers and locals guide the tourists and help with their belongings to the peak. To reach the summit takes around 6 hours from the Srekenbei village with one of the many organized adventure tours to Aural mountain, including our suggestion, DerPrey. 
There are plenty of animals to see at Phnom Aural, which was established as a wildlife sanctuary, and it is a great spot for visitors to enjoy watching the 200 species of rare birds, like the Cambodian Laughingthrush,  Silver-breasted Broadbill, and the Great Hornbill.
This post is also available in:

KH